Europe's first full-sized self-driving bus will be demonstrated at a major event in Glasgow next week showcasing connected and autonomous vehicles (CAV).
CAV Scotland, organised by Transport Network on behalf of Transport Scotland, takes place at the Scottish Events Campus (SEC), Glasgow on 13 and 14 November.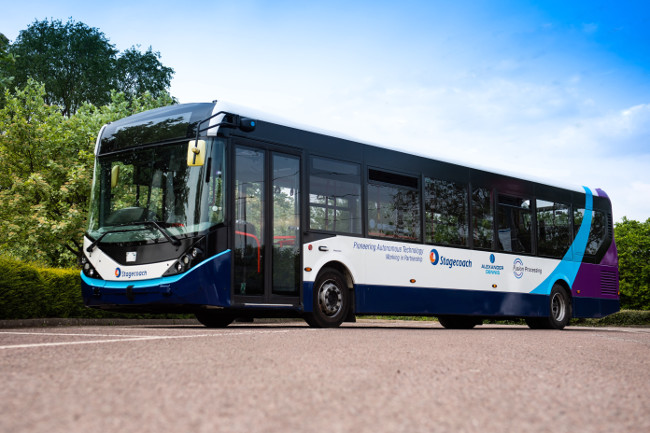 The event will host a trial of one of five autonomous buses set to serve up to 10,000 passengers a week between Fife and Edinburgh across the old Forth Road Bridge next year – the first autonomous full-sized (12m/36ft) passenger bus fleet.
It is the result of a joint project between Stagecoach, Transport Scotland, Alexander Dennis Ltd (ADL), Fusion Processing Ltd, mobility services specialist ESP Group, Edinburgh Napier University and University of West of England.
The bus – operated by Stagecoach East Scotland – will be used autonomously to Level 4 standard, which means that a driver will remain on board during any journey, in line with UK regulations.
Michael Matheson, the Scottish Government cabinet secretary for transport, infrastructure and connectivity will be attending CAV Scotland 2019, having attended the inaugural event last year.
He said: 'I'm really looking forward hearing about the developments in this exciting and fast-moving industry over the past twelve months.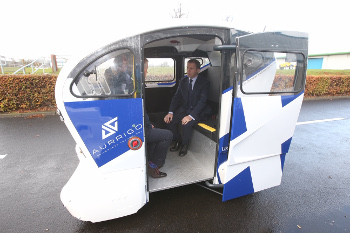 'Scotland is already establishing its credentials on the world stage with the ground-breaking and globally significant Project CAVForth, in which government, industry and academia are collaborating in the design, development and operation of a fleet of full size autonomous buses between Fife and Edinburgh, across the Forth Road Bridge.
'I'm particularly interested in seeing the demo of the prototype automated bus system, which is a precursor to the vehicle that will be used in Project CAVForth, as it's the type of innovation that shows Scotland is very much open for business when it comes to trialling these vehicles.'
Mr Matheson will be speaking at 9.30am on day two (14 November) and Ivan McKee MSP minister for trade, investment and nnovation will speak on day one.
The bus
Fusion Processing is working together with partners Stagecoach and Alexander Dennis Ltd to develop technology that aims to set new standards of bus safety to protect vulnerable road users and can be fitted to everyday buses of all sizes, today.
Designed to make buses in cities safer, key innovations aim to reduce the risk of crashes:
Pedestrian detection
People will often run for the bus and dash across the road in front of the vehicle. Fusion's pedestrian detection system will recognise anyone crossing in front of the bus and automatically inhibit the engine, stopping the bus pulling away whilst the driver may be distracted looking for a gap in the traffic.
Intelligent speed assist
Fusion's speed assist technology tracks vehicle progress, and the top speed of the bus will automatically be limited to the maximum speed of any given stretch of road.
Replaced wing mirrors for cycle safety
The bus also features new wing mirror technology combining an HD camera feed with radar to identify cyclists in the vehicles' blind spots. This gives an audible and visual alert while feeding an image to tablets mounted on the vehicle's A pillars.
Replacing the wing mirrors also eliminates the risk of clipping passing vulnerable road users, and streamlines the bus front cutting drag and improving fuel efficiency.
The project
The 11.8m ADL Enviro200 vehicles will provide a service capable of carrying up to 42 passengers on a 14-mile route operating between Ferrytoll Park and Ride facility in Fife and the Edinburgh Park Train and Tram interchange.
The bus will use both on-road and hard shoulder running, and will use the public transport corridor across the Forth Road Bridge. With buses running up to every 20 minutes, this could provide an estimated 10,000 weekly journeys.
Work on the project is expected to get underway during the second quarter of next year at ADL's manufacturing centre in Guildford with the first vehicles expected to go into service during 2020.
To date, the bus has been used in autonomous mode only within the depot environment, to carry out movements such as parking and moving into the fuelling station and bus wash.
The UK Government is supporting the project with funding of £4.35m through Innovate UK.
You can register to attend Traffex Scotland and CAV Scotland here.
Register just once to get unrestricted, real-time coverage of the issues and challenges facing UK transport and highways engineers.
Full website content includes the latest news, exclusive commentary from leading industry figures and detailed topical analysis of the highways, transportation, environment and place-shaping sectors. Use the link below to register your details for full, free access.
Source: www.transport-network.co.uk