Uber Eats has partnered with two autonomous delivery companies to deliver food orders to customers using only sidewalk robots and self-driving cars in Los Angeles, California — and the move might bring down costs. Ordering food from mobile delivery services can be expensive, since most companies charge delivery fees, service fees, and suggest customers tip their driver. That issue has only gotten worse in recent weeks, as Uber has instituted a temporary surcharge on rides and deliveries to combat rising gasoline prices in North America. The fee is less than a dollar per ride or order, but it adds to to growing cost of home delivery. Using autonomous delivery methods could help make food delivery services more affordable, and that's especially true in the trial program.
Though the company is more prominent in the rideshare market, Uber is also a major player in the food delivery industry. It uses individual contractors that choose to deliver food and groceries at their leisure. When these contractors log onto the service and are ready to work, they are given orders by customers based on their location. The service is only growing, as Uber is expanding their offerings to include grocery deliveries in select cities. Last year, the company added more than 400 cities and towns to the list of areas that provide grocery delivery services, which rounds out the trifecta of Uber's rideshare, food, and grocery delivery options. With autonomous robots and vehicles as part of the fleet, Uber could make even more deliveries in North America.
Uber will begin testing autonomous deliveries using sidewalk robots and self-driving cars in Los Angeles, the company announced in a press release. The new service will be provided through a partnership with two separate companies that offer niche technologies in the autonomous delivery market. Serve Robotics, a startup that claims to be the first company to commercially launch Level 4 autonomous robots, will be making Uber Eats deliveries with its sidewalk robots. Since the robots are Level 4 autonomous devices, they can fully operate without human intervention. This type of autonomous delivery seems best fit for urban areas, where the robots can travel shorter distance without congesting traffic on roadways. However, in the trial run with Uber, a human remote operator will monitor the robot's movements and take over in difficult situations, an Uber spokesperson told TechCrunch.
Here's How Uber Will Deliver With Autonomous Robots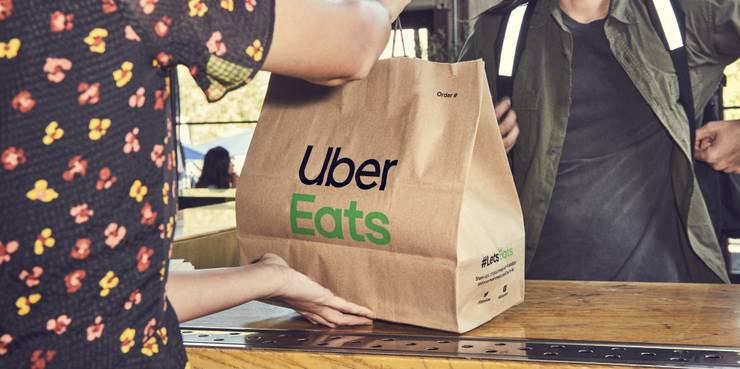 The partnership with Serve Robotics is indeed designed for use in shorter trips. The sidewalk robots provided by Serve Robotics will be used in West Hollywood for short distances, while the self-driving cars will make longer-distance deliveries in Santa Monica, an Uber spokesperson told TechCrunch. Both pilot programs will help the company decide how to best implement autonomous robots and vehicles into its operations at scale. "We'll be able to learn from both of those pilots what customers actually want, what merchants actually want and what makes sense for delivery as we start to integrate our platform with AV companies," said the spokesperson. These pilot programs are opt-in, meaning customers will have the choice at checkout to use an autonomous delivery robot or vehicle if they are within a supported area.
Another partnership with Motional, an autonomous vehicle company that has retrofitted Hyundai's Ioniq 5 robotaxis to be self-driving, will make autonomous deliveries possible in Los Angeles. These self-driving cars will deliver Uber Eats orders with the oversight of a human safety operator, who may take control of the vehicle when near the customer's delivery location. Though Uber plans to charge delivery fees for autonomous deliveries, it might be tricky at first. Current California law requires companies to obtain a permit to charge delivery fees made using autonomous vehicles, which Uber currently does not possess, per TechCrunch. Additionally, the company will refund any tips made to autonomous robots, further lessening the cost of delivery. At least at the start of the pilot program, autonomous delivery could be a cheaper way to order food through Uber Eats and cut down the added fees.
Source: screenrant.com